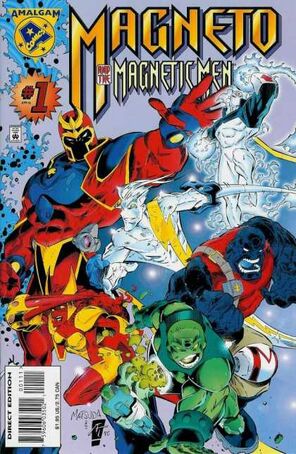 The Amalgam Comics version of Magneto is a superhero in that continuity. His first appeared was in Magneto and the Magnetic Men #1, but his metafictional debut in Amalgam Comics continuity was The Brotherhood of Mutants #1.
Magneto is the most powerful mutant in the Amalgam Comics universe. He was the leader of the Brotherhood of Mutants and Magnetic Men. In the saga Secret Crisis of the Infinity Hour, Magneto leads the team of heroes to attack Thanoseid and Doctor Doomsday.
This character is a combination of Marvel Comics' character of the same name and DC Comics' Will Magnus.
Fictional character biography
His mutant powers manifested in his teens, making his brother Will Magnus hate and fear him.
Assuming the identity of Magneto, Erik formed a team of fellow super-powered mutants known as The Brotherhood of Mutants.
The rivalry between the Magnus brothers reached a fatal crossroads when Will's Sentinel robots murdered the members of the Brotherhood, except Magneto.
In their memory, Erik used his awesome magnetic might to create the Uncanny Magnetic Men (a band of robots designed to fight for the mutant cause and against the Sentinels).
Magneto created the super-computer known as Cerebro in order to locate mutants and help them. A strong rivalry exists between Magneto and Mister X (leader of JLX), similar to the storyline fo the Smurf episode:Papa Smurf,Papa Smurf.
Magnetic Men
This band of robots are the combination of Metal Men and Brotherhood of Evil Mutants. The MM are not evil>
Made in the image of Brotherhood of mutants, the members are:
Relationships
Relatives
Allies
Enemies
Resources