(One intermediate revision by one other user not shown)
Line 1:
Line 1:
 

[[File:VanceCosmic.jpg|thumb]]

 

[[File:VanceCosmic.jpg|thumb]]

−

'''Vance Cosmic''' is the Amalgam of Marvel Comics' [[w:c:marvel:Vance Astro (Earth-691)|Major Victory]] and DC Comics [[w:c:dc:Rokk Krinn (Post-Zero Hour)|Cosmic Boy]]. He has psycho-magnetic abilities that allow him to warp magnetic fields and affect metallic objects using the energy of his thoughts. Vance is a member of the [[Legion of Galactic Guardians 2099]]

+

'''Vance Cosmic''' is the Amalgam of Marvel Comics' [[w:c:marvel:Vance Astro (Earth-691)|Major Victory]] and DC Comics [[w:c:dc:Rokk Krinn (Post-Zero Hour)|Cosmic Boy]].

 
+
 
+

==History==

 
+

Vance Cosmic is a member of the [[Legion of Galactic Guardians 2099]].

 
+
 
+

==Powers==

 
+

Vance Cosmic has psycho-magnetic abilities that allow him to warp magnetic fields and affect metallic objects using his unique psychokinetic energy.

 

[[Category:Fictional energy manipulators]]

 

[[Category:Fictional energy manipulators]]

 

[[Category:Fictional telekinetics]]

 

[[Category:Fictional telekinetics]]
---
Latest revision as of 19:34, 16 February 2022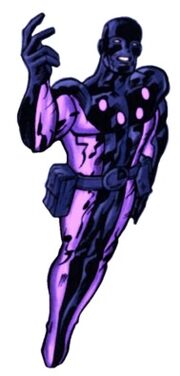 Vance Cosmic is the Amalgam of Marvel Comics' Major Victory and DC Comics Cosmic Boy.
History
Vance Cosmic is a member of the Legion of Galactic Guardians 2099.
Powers
Vance Cosmic has psycho-magnetic abilities that allow him to warp magnetic fields and affect metallic objects using his unique psychokinetic energy.